Quality Eco Leather for Car Seats
Oldest in the industry, Newest in Technology
Marvel Vinyls Limited is a world class manufacturer of synthetic coated fabrics trusted by the best in the automotive industry. Marvel manufactures leatherette with the world class technology in its state of the art plant in Gwalior.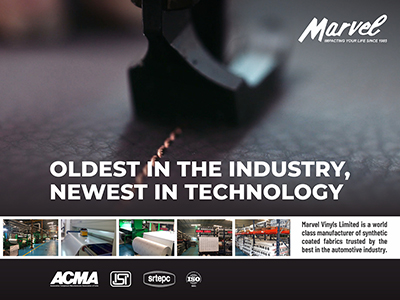 Being the manufacturers, we ensure the quality parameters of a product by conducting various in-house tests through latest technology testing equipment's such as:-
Automated mixer to avoid human error and to ensure consistency.
Hydrometer to ensure specific gravity of plasticizer.
Beta Gauge for thickness control.
Color comparator and Spectro Photometer for accurate color matching.
We also ensure same weight and thickness each time with the help of India's only automated touch less gauge system before moving the product out of the industry to our loyal customers.
We believe that happy customers are our biggest advocates and their loyalty is priceless.
Related