Ensuring Quality & Consistency Every Time with Beta Gauge Technology
Marvel employs world class technology to ensure that its process is consistent in maintaining all production parameters. Compounding to manufacturing, the entire raw material flow and dispensing is system controlled while using touch less beta gauge which measures parameters and corrects them automatically every 3 seconds.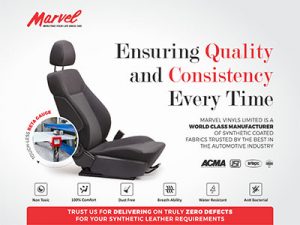 Marvel has the most automated plant in the country with checks in place to prevent and even correct human errors. Trust us for delivering on truly zero defects for your synthetic leather requirements.
Marvel Vinyls Limited is a world class manufacturer of synthetic leather coated fabrics trusted by the best in the automotive industry.
Related